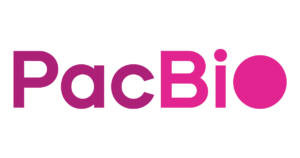 Pacific Biosciences is based in the heart of Silicon Valley and provides sophisticated genomic sequencing and analysis systems that deliver invaluable insights for scientists who strive to resolve complex genetic challenges.  Harnessing advances in biochemistry, optics, nanofabrication, and more, PacBio developed Single Molecule, Real-Time (SMRT) Sequencing technology. This powerful technology enables real-time analysis of biomolecules with single-molecule resolution.
PacBio sequencing offers the most comprehensive view of genomes, transcriptomes, and epigenomes — including the full spectrum of genetic variation — by providing the longest average read lengths, highest consensus accuracy, and most uniform coverage of any sequencing technology on the market today. Ideal for de novo genome assembly and genetic variation characterization of humans, animals + plants, and microbes, this system features high-performance optics, automated liquid handling, and an intuitive, intelligent operating system.
SEQUENCING METHODS FOR SOLUTIONS THAT MATTER
PacBio's technology provides the most comprehensive view of genomes, transcriptomes, and epigenomes.
WHOLE GENOME SEQUENCING
Achieve the highest consensus accuracy and uniform coverage for reference quality genomes in humans, plants, animals, and microbes.
EPIGENETICS
Explore how epigenetic changes affect gene expression, host-pathogen interactions, environmental response, and more.
TARGETED SEQUENCING
Accurately detect and uncover all variant types even in hard-to-reach regions of the genome.
RNA SEQUENCING
Discover new genes, transcripts, and alternative splicing events with a complete view of transcript isoform diversity.
The Sequel II Systems: 
The PacBio Sequel II and IIe systems provide all scientists with access to high throughput, cost effective, highly accurate long-read sequencing. Watch this short video to learn how the Sequel II and IIe systems can help you be confident in your discoveries made possible with comprehensive views of genomes, transcriptomes, and epigenomes.
Features:
Automated consumable handling with integrated software
Intuitive run setup and monitoring
Flexible runtime
Data available for analysis as each SMRT Cell completes
Fully automated: No manual touch points during a sequencing run
HIFI Sequencing - Unlock Your Next Great Discovery
With HiFi sequencing you get the benefits of short reads and traditional long reads in one easy-to-use technology. Watch this short video to learn how HiFi sequencing is empowering scientists to strive for new breakthroughs.
HiFi reads let you accurately detect all types of variants, from single nucleotide to structural variants, with high precision and recall and phase haplotypes, even in hard-to-sequence regions of the genome.